When dealing with heartbreak, a bloody good TV show or movie can be the perfect respite. The trick is to avoid anything that focuses too hard on romance, or anything remotely melancholy.
You're already fucking sad. Now is not the time to watch World War II in Colour. So, we've picked some of the best things to watch in the midst of heartbreak. (All tried and tested for you!)
Here's what made the cut.
1. Killing Eve

Villanelle (Jodie Comer) is a psychopathic assassin obsessed with Eve Polastri (Sandra Oh) the MI6 officer tracking her. Writer legend goddess Phoebe Waller Bridge wrote the first season, which features downright powerful (non-male) characters with killer chemistry and beautifully dark humour. It's perfect for taking your mind off fuck face, and may inspire you to take up some kind of martial artistry.
Watch it on Stan.
2. Unbreakable Kimmy Schmidt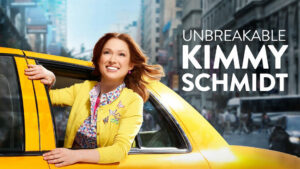 Kimmy (Ellie Kemper) spent 15 years in a bunker with a cult leader, who may or may not be Jon Hamm, and a bunch of sister-wives. Now she's trying to live like a normal person in New York, and the only thing getting her by is her psychotically positive zest for life. I personally watched this show through a crappy breakup and there was something weirdly comforting about her unshakable positivity.
Watch it on Netflix
3. Thelma and Louise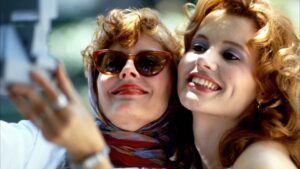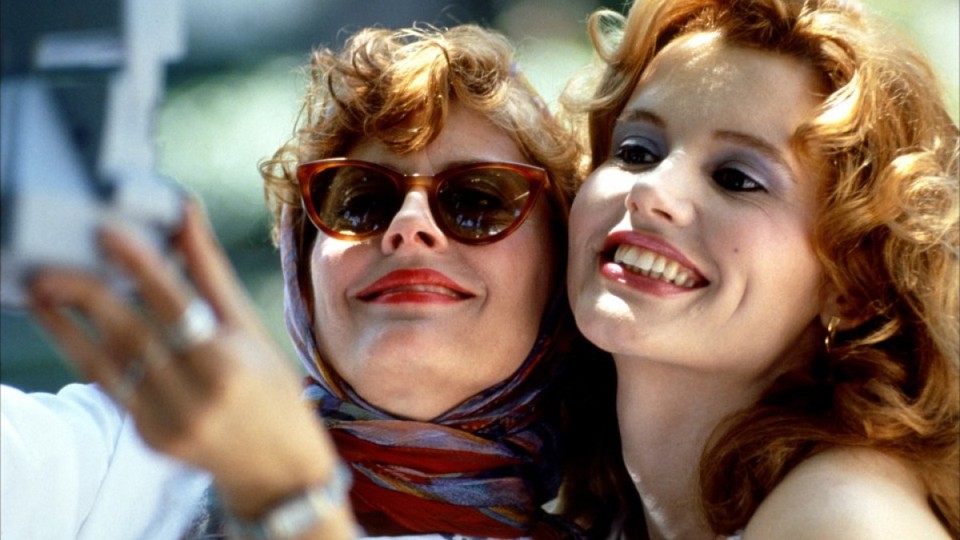 True love doesn't have to be the romantic kind. It can be two friends fucking off to the mountains to escape their terrible partners, and eventually, the law. Along the way, they meet peak-hot-phase Brad Pitt, and drive off the edge of a cliff (if you haven't seen the film you damn well know the scene). Geena Davis and Susan Sarandon are absolutely incredible in this film, which reinforces that romantic love is nowhere near as powerful as the love two friends can have for one another.
Watch it on Stan
4. Frozen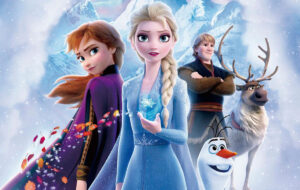 There's a time and a place for heart-warming Disney films, and getting through the dark smog of a breakup is one of them. The musical follows Anna (Kristen Bell), a fearless princess who ventures to find her Snow Queen sister (Idina Menzel) and break a spell, which has trapped her kingdom in perpetual winter. Anna teams up with a mountaineer and a reindeer to get the job done, and meets up with mystical trolls and other cool magic stuff along her journey. It's fucking adorable.
Watch it on Disney+
5. Schitt's Creek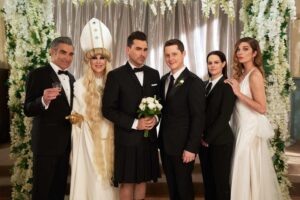 The Rose family loses their fortune and is forced to move to a small town they bought as a joke. Their new home is two adjoining rooms in a rundown motel with limited privacy and a poor selection of towels. The family grapple with living like regular folk – they're out of touch, dysfunctional and incredibly eccentric. The show has a cult following, thanks to its writers (Dan and Eugene Levy), and epic cast, which includes Eugene and Dan Levy as on-screen father and son, Annie Murphy as Alexis Rose and Catherine O'Hara as Moira Rose – a woman whose accent no one can truly pinpoint.
Watch it on Netflix
6. Jessica Jones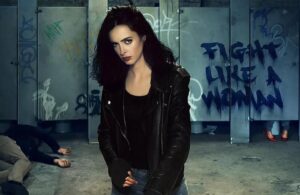 Jessica Jones used to be a pretty good superhero, until some dickhead put her in a weird situation and she accidentally killed someone. Now, she's using her business prowess to start a detective agency, where, you guessed it, the previously mentioned dickhead gets up in her grill again. Naturally, she has some mad skills, and the kind of sarcastic humour that makes you want to invite her over for a pet-nat, and maybe to beat up your ex.
Watch it on Netflix
7. The Queen's Gambit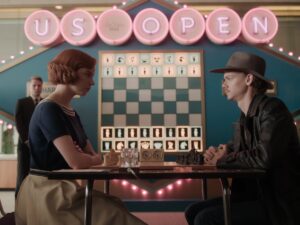 There aren't many shows that focus on a woman completely absorbed in her passion. Beth Harmon (Anya Taylor-Joy) is a genius chess player, raised in an orphanage during the Cold War era. She annihilates everyone she plays, including the many white dudes who underestimate her. Yes, there's some bumping and grinding, but the core of the script is focused on her journey, and the demons she overcomes along the way. It's compelling viewing that will make you want to swap romance for chess indefinitely.
Watch it on Netflix